AMANDA SEDGWICK QUINTET
"Shadow and act"
PB7 022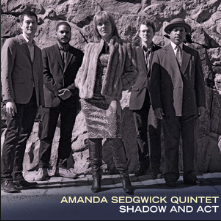 Bean And The Boys (Coleman Hawkins) / River Park Towers (Amanda Sedgwick) / Leo´s Waltz (Amanda Sedgwick) / Monochrome In Blue (Sedgwick/Lindberg/Rabson/Fadera) / Escalading (George Wallington) / Baltimore (Amanda Sedgwick) / Embraceable You (George Gershwin) / Reets And I (Bud Powell) / Mshadow And Act (Amanda Sedgwick)
Dwayne Clemons trumpet, Amanda Sedgwick alto saxophone, Leo Lindberg piano, Kenji Rabson bass, Moussa Fadera drums
Recorded at PorkSausage Studios in Stockholm, Sweden on March 28 and 29. Recording and mixing engineer: Krister Broberg. Mastering: Claes Persson. Producer: Amanda Sedgwick. Executive producer: Patrik Boman. Photos: Kenneth Schalich. Artwork and design: Krister Broberg.
"Shadow And Act" is this group´s debut CD. Amanda Sedgwick, active on the scene since almost 20 years and with three previous solo CD´s, has led a number of bands in her name but this constellation is about a year old.
The quintet is Swedish/American, and the American influence is also strong in the musical expression, which clearly descends from artists like Bub Powell and Charlie Parker. Combined with Amanda Sedgwick´s original compositions the group play their own very personal brand of bebop.