Stefan Isaksson "Kamouflage, Isaks Young Generation 10" vinyl
PB7S 001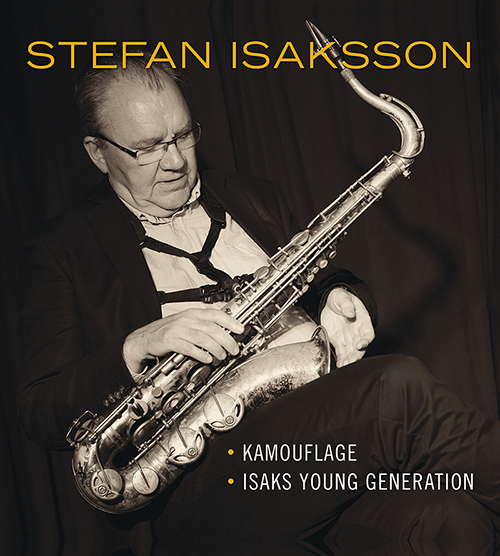 Recorded at Mungo Studio march-february 2017. Recording engineer Lennart Östlund. Produced by Roger Palm. Mastering by Claes Persson at CRP Recording. Photo (cover) by Kenth Wångklev. Graphic design by Johan von Friedrich at Slow Fox Production.
Sid A: Blues In The Night / Olivia
Sid B: Ywonnes Blues / Glonk
Sid A track 1-2 with Kamouflage. Sid B 1-2 with Isak´s Young Generation.
Kamouflage with Camilla Isaksson. The band "Kamouflage" consists of: Stefan Isaksson tenor sax, Claes Askelöf guitar, Patrik Boman double bass and Jesper Kviberg drums, all familiar names in the swedish jazz world.
With them, they have singer, Camilla Isaksson, who has gained a great impact among the audience with the ability to master both ripple soul music and jazz standards with power and emotion. Kamouflage play their mix of newly composed songs by Stefan Isaksson and Claes Askelöf, previous compositions with newly written text by Camilla Isaksson and standards. An incredibly versatile band that plays blues, soul, bossanovas and timeless jazz.
Isak`s Young Generation consists of: Harry Wallin drums, Erik Lund bass, Joel Svensson guitar and Stefan Isaksson tenorsax.
The best description for this band is the word energy! With new fresh versions od Stefans compositions and exciting arrangement of standards with real intensity, Isak´s Young Generation shows samples of the best mix between classical and modern.