Kristina Westin
In The Back Of My Mind
PB8 007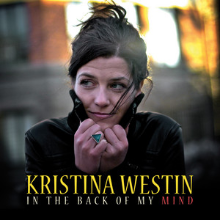 Vocals: Kristina Westin. Guitars: Niklas Carlsson, Jacob Håål, Kristina Westin. Piano/Organ: Daniel Forsberg (Charlotte Hasselquist track 7). Bass: Björn Larsson. Drums: Zacharias Ahlvik. Trumpet: Henric Larsson. Saxophone: Jonas Eng. Background vocals: Lou Lou, Josefin Franc, Sofia Nordling, Niklas Carlsson, Daniel Forsberg, Alexander Bergström.
All songs written by Kristina Westin except track 1, 2 & 10 by Kristina Westin and Niklas Carlsson.
Produced by Kristina Westin and Niklas Carlsson. Recorded, engineered and mixed by Niklas Carlsson except track 2 & 8 by Alexander Bergström and track 9 mixed Zacharias Ahlvik. Mastered by Peter In de Betou at Tailormaid Productions.
Photography by Jonas Lundvall. Layout by Niklas Carlsson.
"And let´s not forget about the voice. Westin´s vocal style yilelds an innocent, powerful-yet-fragile tone that can turn any negative feeling into a positive outlook. For comparison´s sake, imagine the vocal abilities of Emmylou Harris, Norah Jones, Paula Cole and Shawn Colvin all harnessed by one individual and you will come very close to Westin´s strength." Mark Morton, MusicEmissions, USA