Kristina Westin
A Better Life
PB8 003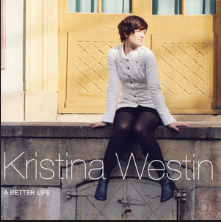 Kristina Westin's debut album is kin to Emmylou, Dolly and Norah. Twelve songs in the key of life and longing. Stripped-down, chiseled guitar-driven country beat and crisp piano ballads.
The guitar and bass set the tone and Charlie Watts lends his rawest drum beat. A rare mix of Nordic melancholy and urban verve.
Laura / Satisfied / Flowers / Glass House / Spirit / One More Night / Out There / No Regrets / Harmony /A Better Life / Start All Over / Last Goodbye
Produced by Niklas Carlsson and Kristina Wesin. Recorded and mixed by Niklas Carlsson. "A Better Life" and "Flowers" mixed by Niklas Carlsson and Kristina Wesin. Mastered by Peter in de Betou at Tailor Maid Production.
All songs written by Kristina Westin. No Regrets, Spirit, One More Night, Satisfied, Start All Over and Last Goodbye together with Niklas Carlssons, harmony together with Jacob Håål.
Kristina Westin vocals, acoustic guitar, piano and accordion on Glass House. Niklas Carlsson guitar, vocals, keyboard, bass and drums on Start All Over. Jacob Håål guitar, mandolin, pedalsteel and dobro. Björn Larsson bass on Harmony and Glass House. Zacharias Ahlvik drums and percussion. Daniel Forsberg Hammond on Last Goodbye, Spirit and Flowers. Charlotte Hasselqvist violin on Out There. Johan Hasselqvist drums on Satisfied. Patrik Boman bass on Satisfied. Christoffer Demby accordion on Start All Over.